Bjørnson muittus Slovakias
Bjørnstjerne Bjørnson lei guovddážis Eksellense Presideantta Andrej Kiskas stáhtaguossástallamis Norggas. Dien beakkán diktačálli muitu lea nanus Slovakias.
05.06.2018
Bjørnstjerne Bjørnsonis lei stuora beroštupmi smávva našuvnnaid iešmearridanvuoigatvuođaide, sin gielaide ja kultuvrraide, ja nu lea ge sus stuora sadji Slovakia dihtomielas – ain dál 118  jagi maŋŋel iežas jápmima. Dan beasai Gonagasbárra muosáhit dalle go leigga stáhtaguossástallamis Slovakias 2010:s.
Eske veaigin ledje Majestehta Gonagas ja Dronnet ja Prinseassa Astrid,  Ferner roavvá Našunálateáhteris ovttas Presideanta Kiskain.
Slovákialaš našunálateáhteris lei premiere Bjørnsona "Over ævne II". Govva: Sven Gj. Gjeruldsen, DKH
Gállamállásiin mánnodat eahket čujuhii Gonagas Harald diktačálli rollii, ahte son doaimmai inspirašuvdna addin sihke Norggas ja Slovakias, ja loahpahii ge iežas sártni dáinna sitáhtain: "Buorit dagut gádjot máilmmi". Bjørnsona dagut ja árvvut sáhttet leat inspirašuvdnagáldun midjiide buohkaide – otná dán beaivvi maid".
"Let me end with a quote from Bjørnson: "Good deeds save the world". Bjørnson's actions and values should be a source of inspiration for all of us – also today.
Maritiibma beaivvi álgu
Muhto otná prográmma álggii mearraáššiiguin, álggos sii fitne Wilhelm Wilhelmsen rederiijas Lysakeris. Beaivválaš jođiheaddji Thomas Wilhelmsen ja skiipagoasttideaddji Wilhelm Wilhelmsen vuostáiválddiiga gussiid. Ođđaáigásaš teknologiija lei guossástallama guovddáš fáddán.
Gonagasbárra ja Presideanta ožžo dieđuid ollu vejolaš čovdosiid birra, earet eará mot sáhttá ráhkadit vuogas toavaid, main digitála signálat toavain muitalit skiipa vehkii buot maid dárbbašit diehtit dan birra man ollu toavat girdet.
Slovakia lea okta Eurohpá stuorámus biilabuvttadeaddji riikkain, ja boahtteáiggi biilaindustriija lei maid fáddán dán guossástallamis.
Ohcet ođđa medisiinnaid
Oslo Cancer Cluster sisttisdoallá 90 doaimma mat dutket ođđa diagnostiserenvugiid ja ođđa medisiinnaid borasdávddaide. Das lea miellahtut olles dán suorggis – vuđolaš  farmasiijalaš dutkanfitnodagaid rájes. Ulbmil lea šaddat okta Eurohpá njunuš birrasiin borasdávdadutkamis.
Vázzimin ja geahččamin Radiumhospitála. Govva: Sven Gj. Gjeruldsen, DKH
Birrasii 30 dáin doaimmain leat čadnon Radiumhospitálii, ovttas Borasregistariin ja Ullern joatkkaskuvllain. Dieinna skuvllain ovttasbargá Oslo Cancer Cluster danin vai movttiidahttá taleanttaid ja boahttevaš dutkiid. Gonagasbárra ja Presideanta Kiska beasaiga dearvvahit rektor Torill Røeggen ja muhtun skuvlaohppiid ovdal go fágalaš prográmma borasdávdadutkama birra, mii dál lea jođus, álggii.

Gonagasbárra ja Presideanta Kiska beasaiga dearvvahit rektor Torill Røeggen ja muhtun skuvlaohppiid. Govva: Sven Gj. Gjeruldsen, DKH
Almmolaš lunša
Ráđđehus lágidii lunšša gudnin Slovakia Presidentii Ráđđehusa ovddastanlanjain. Kulturministtar Trine Skei Grande lei guossoheaddji, ja sihke Gonagasbárra ja Ruvdnaprinsabárra ledje doppe.

Ihttin loahpahuvvo stáhtaguossástallan Bergenis, gos Ruvdnaprinsa Haakon  čuovvu Presideantta.
Fáktadieđut
Dieđut Slovakia birra
Oaivegávpot: Bratislava
Stuorámus gávpogat: Bratislava, Košice ja Prešov
Viidodat: 49 035 km² (Norga: 385 203 km²)
Olmmošlohku(2018): sullii 5,4 millioner
Giella: Slovakias
Stivrejupmi: Republihkka
Stáhtaoaivámuš 2018 (2018): Presideanta Andrej Kiska
Leat leamaš diplomáhtalaš oktavuođat Norggain 1.beaivvi  rájes ođđajagimánus 1993, dalle go Slovakia ásahuvvui sierra stáhtan go ovdalaš Tsjekkoslovakia juogaduvvui. Norga ásahii ambassáda Bratislavai ođđajagimánus 2005. Gonagas Harald ja Dronnet Sonja, leigga stáhtaguossástallamis Slovakias golggotmánus 2010.
Slovakia ja Norgga gaskkas leamaš dađistaga eanet ovttasdoaibma, sihke kultuvra ja ealáhussuorggis. Sivvan dasa lea earet eará dat ahte Norga addá doarjaga Slovakiai EØS-ruhtadanortnegiin. Sullii 20 norgalaš fitnodoaimma lea ásahuvvon Slovakiai,  ja birrasii 600 norgalačča studerejit doppe (eatnasat lohket medisiinna).
Gáldu: Olgoriikadepartemeanta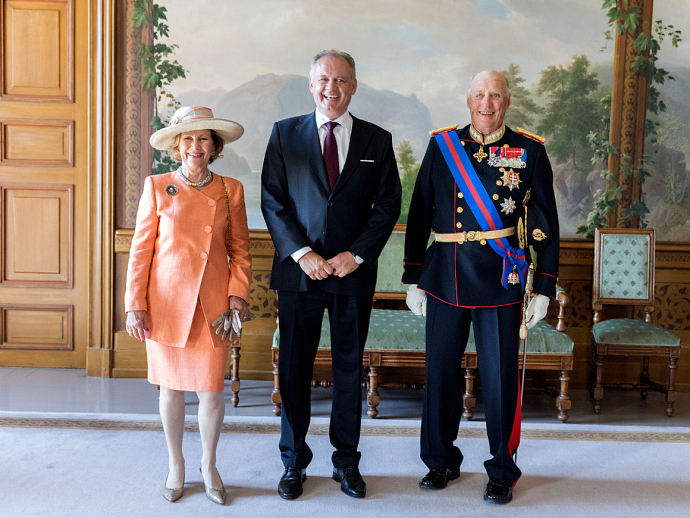 Almmolaš govven Loddesálas: Gonagasbárra ja Presideanta Andrej Kiska. Govva: Gorm Kallestad / NTB Scanpix