Stáhtaguossástallit Slovakias
His Excellency President Andrej Kiska of Slovakia began a three-day State Visit to Norway today. Their Majesties The King and Queen welcomed the President in the Palace Square.
04.06.2018
Gonagaslaš Allavuohta Ruvdnaprinsa Haakon čuovui Slovakia Presideantta Oslo girdihámmanis Gardermoenis almmolaš buresboahtinseremoniijai, mii lei  Šloahta olggobealde. Das vuostáiválde Gonagasbárra ja Gonagaslaš Allavuohta Ruvdnaprinseassa su.
Maŋŋel allaáiggálaš našunálalávlagiid čuojaheami, dearvvahii Presideanta Kiska almmolaš Norgga ovddasteddjiid. Presideanta dearvvahii skuvlamánáid ja Slovakia olbmuid geat ásset Norggas, ovdal go manai Šlohttii vuostáiváldiid fárus.
Loddesálas dearvvahii Presideanta Kiska Prinseassa Astrid, Ferner roavvá– ovdal almmolaš govvema.
Presideanta Andrej Kiska, Gonagasbárra, Ruvdnaprinsabárra ja Prinseassa Astrid, Ferner roavvá Loddesálas. Govva: Gorm Kallestad / NTB Scanpix
Liđiid bidjan
Šloahtas vulge dasto Presideanta ja Gonagasbárra Akershus Ladnái. Árbevieru mielde galgá guossástalli stáhtaoaivámuš bidjat lieđđekránssa Našunálamonumeantta lusa, mii lea ceggejuvvon muitun sidjiide geat gahčče 2.máilmmisoađis.
Presideanta Kiska bijai lieđđekránssa monumeantta lusa eske, ja Presideanta ja Gonagas inspiseriiga fárrolaga Majestehta Gonagasa Garde.
Lieđđekránssa bidjan Akershus ladnis. Govva: Sven Gj. Gjeruldsen, Gonagaslaš hoavva

Maŋŋel lieđđebidjama láidestii Gonagasbárra Presideanta Kiska Stuoradiggái, gos son deaivvadii Stuoradiggepresideanttain Tone Wilhelmsen Trøen.
Ealáhusseminára
Eske veaigin čuvvo Gonagasbárra ja Presideanta ealáhusseminára«Building Smarter Cities» Ealáhusaid Váldoorganisašuvnna/NHO lanjain Majorstuenis Oslos. Semináras dolle sihke norgalaš ja Slovakia oasseváldit sáhkavuoruid, ja juogadedje buriid vásáhusaid – earenoamážit teknologiija ja ođasmahtti energiija suorggis.
Presideanta Kiska loahpahii ealáhusseminára NHO lanjain. Govva: Sven Gj. Gjeruldsen, Gonagaslaš hoavva
Čoahkkimat
Eske veaigin deaivvadii Presideanta Kiska maid stáhtaministariin Erna Solbergain, ja soai lágideigga ovttas preassakonferánssa. Presideanta finai maid Slovakia ambassádas, gos beasai dearvvahit Norgga slovákialaš birrasa ovddasteddjiid ja norgalaččaid geat leat lohkan medisiinnaoahpu Slovakias.
Gállamállásat eahkes
Eahkes loahpahuvvo stáhtaguossástallama vuosttaš beaivi gállamállásiin Šloahtas. Gonagas ja Dronnet lágideaba mállásiid gudnin Slovakia guossái, doppe leat maid sihke Ruvdnaprinsabárra ja Prinseassa Astrid, Ferner roavvá.
Vurdojuvvojit 180 guossi mállásiidda mat álget diibmu 20.00.
Gonagas Harald doallá sártni Slovakia presidentii, Andrej Kiska. Govva: NRK.
Fáktadieđut
Dieđut Slovakia birra
Oaivegávpot: Bratislava
Stuorámus gávpogat: Bratislava, Košice ja Prešov
Viidodat: 49 035 km² (Norga: 385 203 km²)
Olmmošlohku(2018): sullii 5,4 millioner
Giella: Slovakias
Stivrejupmi: Republihkka
Stáhtaoaivámuš 2018 (2018): Presideanta Andrej Kiska
Leat leamaš diplomáhtalaš oktavuođat Norggain 1.beaivvi  rájes ođđajagimánus 1993, dalle go Slovakia ásahuvvui sierra stáhtan go ovdalaš Tsjekkoslovakia juogaduvvui. Norga ásahii ambassáda Bratislavai ođđajagimánus 2005. Gonagas Harald ja Dronnet Sonja, leigga stáhtaguossástallamis Slovakias golggotmánus 2010.
Slovakia ja Norgga gaskkas leamaš dađistaga eanet ovttasdoaibma, sihke kultuvra ja ealáhussuorggis. Sivvan dasa lea earet eará dat ahte Norga addá doarjaga Slovakiai EØS-ruhtadanortnegiin. Sullii 20 norgalaš fitnodoaimma lea ásahuvvon Slovakiai,  ja birrasii 600 norgalačča studerejit doppe (eatnasat lohket medisiinna).
Gáldu: Olgoriikadepartemeanta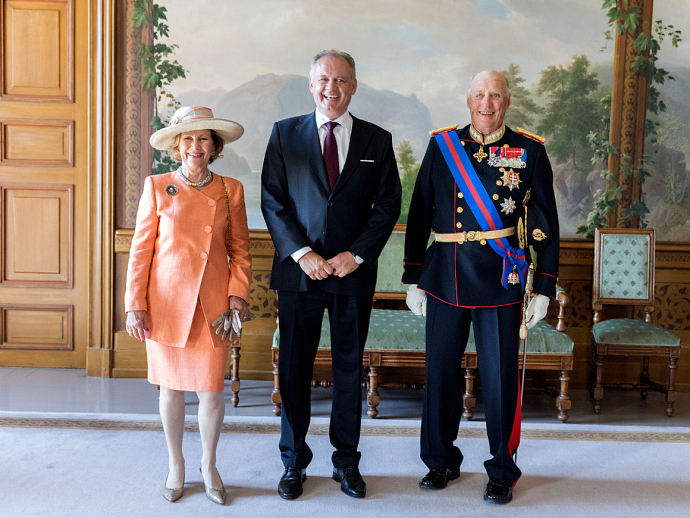 Almmolaš govven Loddesálas: Gonagasbárra ja Presideanta Andrej Kiska. Govva: Gorm Kallestad / NTB Scanpix