Ruvdnaprinsabárra Latvias
Lea čuođi jagi áigi dan rájes báltalaš riikkat sierranedje iešstivrejeaddji riikan. Ruvdnaprinsabárra guossástallá dan ávvudeami oktavuođas Latvia, Litauena ja Estlándda, ja guossástallan álggii Latvia oaivegávpogis Rigas odne.
23.04.2018
Republihkka Latvia vuođđuduvvui dalle go Latvia ovdanbuvttii iežas iešstivrejeaddji cealkámuša, skábmamánu 18. beaivvi 1918. Dan rádjái lei Latvia leamaš ruošša stivreme vuolde gitta álggugeahčen1700-logu.
Buresboahtinseremoniija Riga šloahtas
Odne sávai Eksellense Presideanta Raimonds Vējonis ja su roavvá Iveta Vējone buresboahtima Latviai Gonagaslaš allavuođaguktui Ruvdnaprinsii ja Ruvdnaprinsessii, allaáiggálaš seremoniijain presideantagárdimis, Riga šloahtas.
Presideantabárra ja Ruvdnaprinsabárra dearvvahedje leavggaid seammás go dien guovtti riikka našunálalávlagat čuojahuvvo. Ruvdnaprinsa Haakon inspiserii gudnigardena, ja láidesteaddjin lei Presideanta Vējonis.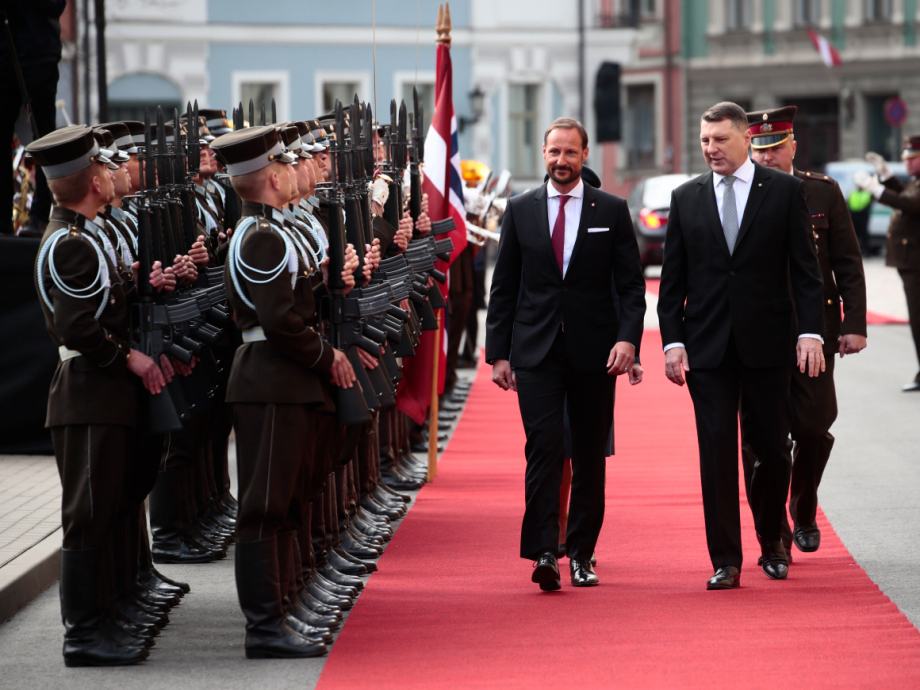 Maŋŋá seremoniija čoahkkanedje diet guokte bára ságastallamiidda, ja dan maŋŋá ledje norgalaš ja látvialaš delegašuvnnaid oktasaš čoahkkimat.
Friddjavuođamonumeantta lieđit
Friddjavuođamonumeanta lea leamaš čoaggananbáiki Rigas juo dan rájes go dat almmustahttojuvvui 1935:s. Sovjehtalaš okkupašuvnna vuolde lei garrasit gildojuvvon čoahkkanit dien báikái. Liikká čoahkkanedje olbmot dohko čalmmustahttit republihka vuođđudusa. Go Latvia fas oaččui iešstivrejumi 1991:s, de čuožžugohte gudnivávttat fas monumeantta luhtte.
Sihke Presideantabárra ja Ruvdnaprinsabárra bidje eske liđiid monumeantta lusa.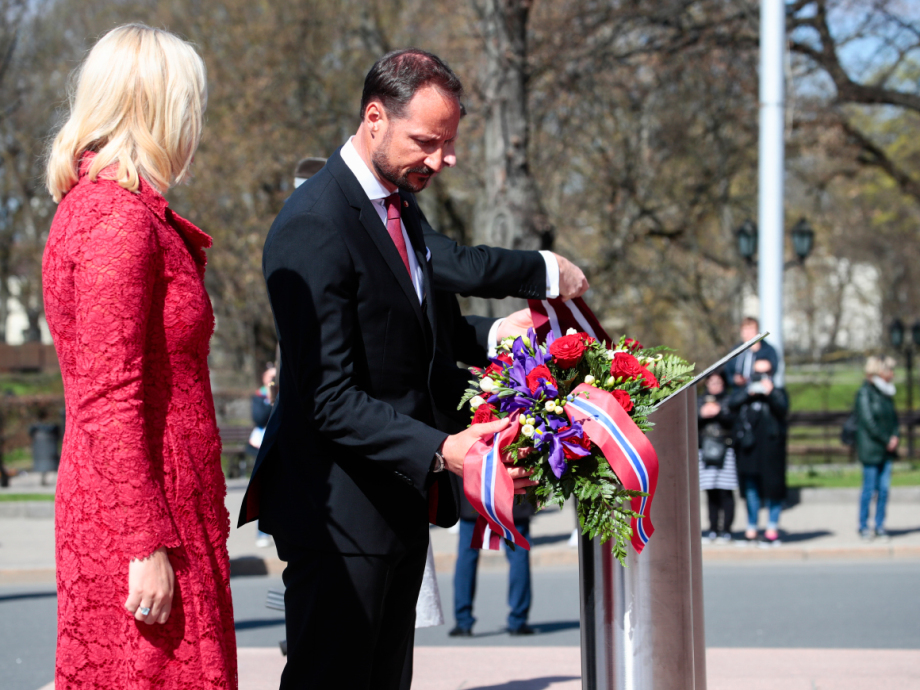 Ruvdnaprinsabárra ja Presideantabárra bidjet liđiid Latvia Friddjavuođamonumeantta lusa. Govva: Lise Åserud / NTB Scanpix


Ealáhusaid lunša
Badjelaš 300 norgga doaimma leat ásahuvvon Latviai, ja sihke Norgga ja Latvia bealis lea stuora beroštupmi ealáhusovttasbargui. Sullii 10 000 látvialačča ásset Norggas, ja sii barget eanas dearvvašvuođasuorggis ja huksenfitnodagain. Norgga ambassadevra Steinar Hagen lei guossoheaddji norgalaš-látvialaš ealáhusforumas odne, gos Ruvdnaprinsa Haakon lei lunša guossin.
Sártnistis odne čujuhii Ruvdnaprinsa dasa ahte dien guovtti riikkas lea guhkes gávppašanárbevierru – Bergenis ja Rigas lei lagas oktavuohta Hansaáiggi. Odne soaitá vuođđuduvvon ođđa gávpeoktavuohta guovtti lagas lihtolačča gaskii.
"I hope today's business forum will serve as a platform for translating our common will into new business partnerships."

Maŋŋá lunšša vulge guossit Latvia našunálagirjerádjosii, Čuovgašlohttii.
Álbmoga girjehildu
Dalle go ođđa našunálagirjerájus galggai rahppot, 2014:s, de ráhkadedje máŋga duhát olbmo ráiddu boares našunálagirjerádjosis ođđa girjerádjosii. Badjel 2 000 girjji sirdašuvve dien láhkái gieđas gihtii iežaset boares ruovttus dán ođđa diehtosymbolii. Vistti silueahtta muittuha látvialaš folklore lásevári. Lásevárri govvida alimus dási maid olmmoš sáhttá olahit: stuorisvuođat mat sáhttet leat garrasat, muhto mat addet fas nu ollu olbmui gii daid nagoda čađahit..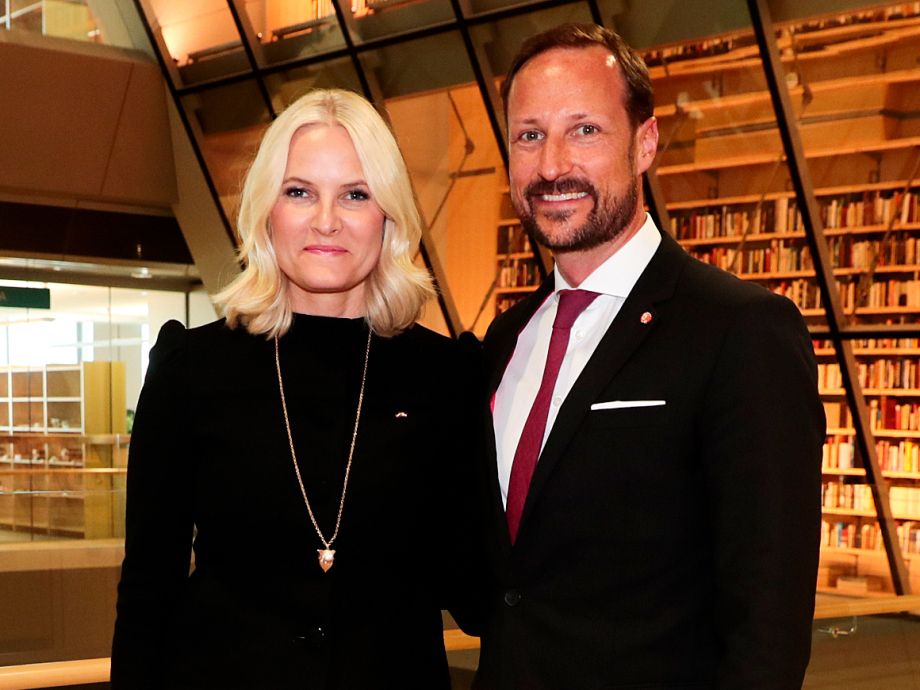 Vistti siste lea atrium mas lea lásekonstrukšuvdna man sisa galget devdojuvvot girjjit. Dat gohčoduvvo Álbmoga girjehildun. Dasa leat bovden buohkaid buktit iežaset favorihttagirjji, ja buot delegašuvnnat mat fitnet Latvias dán 100-jagi ávvudeamis, addet girjji Latvia álbmogii dien láhkái. Odne lei Ruvdnaprinsabára vuorru addit girjji. Soai leigga válljen Maria Parrs Vaffelhjarte, 2005. Mánáidgirjji mii lea ožžon ollu bálkkašumiid ja lea jorgaluvvon ollu gielaide – earet eará látviagillii - Vafeļu sirdis.
ON internašuvnnalaš girjebeaivi
Odne lea internašuvnnalaš girjebeaivi -  beaivi illudit girjjiin ja oažžut lohkanhálu ja vásihit dan mii lohkamiin lea somá. Mánáid lohkanlanjas beasai Ruvdnaprinsabárra deaivvadit látvialaš mánáiguin ja ságastallat singuin dan birra manne lea nu suohtas lohkat. Máŋggas ledje váldán mielde iežaset favorihttagirjjiid, ja muitaledje Ruvdnaprinsii ja Ruvdnaprinsessii daid birra. Mánáid mielas lea Karlsson på taket hui miellagiddevaš. Sii hupme maid dárogiel mánáidgirjji Brune birra, maid Håkon Øvreås lea čállán. Girji lea Rune birra, gii ihkku šaddá supersáŋgir Brune - Brune ii bala mastege.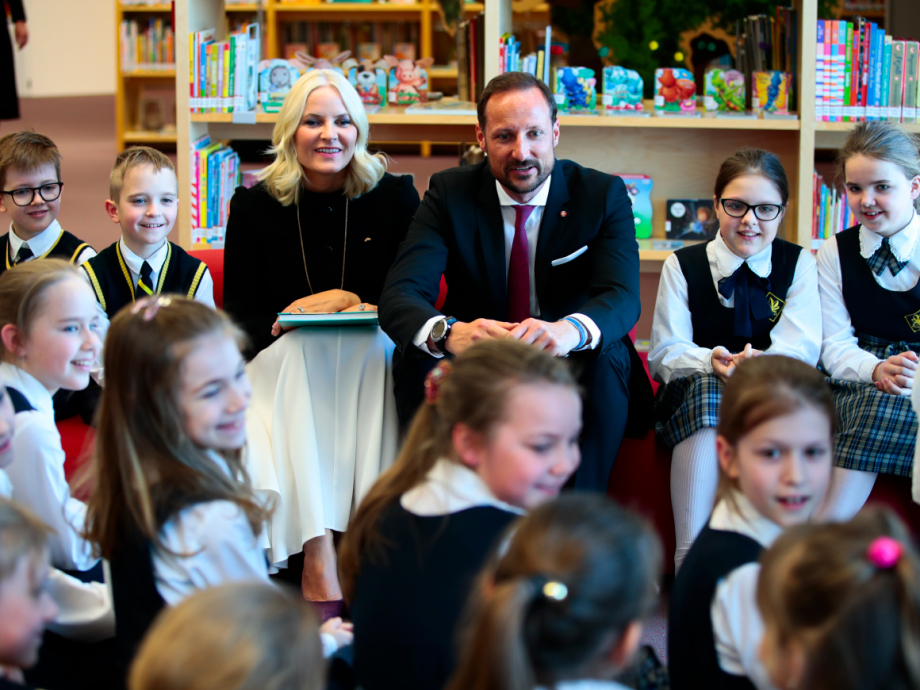 Ruvdnaprinsabárra ságastallamin mánáiguin girjjiid birra Latvias Našunálagirjerádjosis. Govva: Lise Åserud / NTB Scanpix


Deaivvadeapmi ohppiiguin geat leat válljen studeret davviriikkalaš gielaid, loahpahii guossástallama Našunálagirjerádjosis.
Mállásat Presideantagárdimis
Eahkes leaba Ruvdnaprinsa Haakon ja Ruvdnaprinseassa Mette-Marit Presideantabára guossit almmolaš mállásiin Riga šloahtas. Ruvdnaprinsa beasai ge doppe sávvat Latviai lihku 100-jagi ávvudemiin.
"Latvia has a proud history, but Latvians have also known challenging and difficult times. The determination of the Latvian people to achieve independence for their country has been remarkable. It is therefore a special pleasure for me to congratulate you on your Centenary and celebrating 100 years since your declaration of independence. " 

Ihttin jotket mátkki viidáseappot Litauen oaivegávpogii, Vilnius.
Fáktadieđut
Dieđut Latvia birra
Oaivegávpot: Riga
Stuorámus gávpogat: Riga, Daugavpils, Liepaja
Viidodat: 64 573 km2 (Norga: 385 186 km²)
Olmmošlohku: sullii 1 939 500.
Birrasii 62 % lea látvialaččat. 26 % álbmogis leat ruoššat.
Giella: Látviagiella
Stivren: Republihkka
Stáhtaoaivámuš 2018: Raimonds Vejonis
Vuođđuduvvon skábmamánu 18. beaivvi 1918.
Majestehta Gonagas Harald lei stáhtaguossástallamis Latvias 1998:s.
Norgga ja Látvia ovttasdoaimma sáhttá guorrat gitta gaskaáigái ja Hansa-áigái. Dál leat badjel 300 norgga fitnodaga ásahuvvon Látviai, ja Norga lea viđádin stuorámus investora dien riikkas.
Norgga ja Látvia gaskavuohta lea buorre. Dien guovtti riikka ovddasteaddjit deaivvadit jámma iešguđetlágan oktavuođain, sihke politihkalaš ja ámmátdásis. NATO ja EØS lea dehálaš forat.


Gáldu: Olgoriikadepartemeanta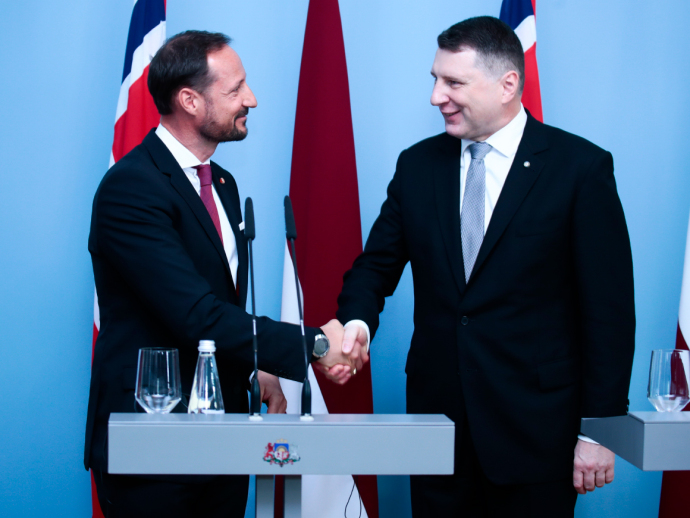 Ruvdnaprinsa Haakon ja Presideanta Raimonds Vējonis lágideigga oktasaš preassadeaivvadeami maŋŋel čoahkkimiid. Govva: Lise Åserud / NTB Scanpix