Rabai Frankfurt girjemeassuid
Gonagaslaš Allavuohta Ruvdnaprinseassa beasai viimmat rahpat Frankfurt stuora girjemeassuid. Sálas ledje 2000 guossi, 7500 čájeheaddji ja vurdojuvvo ahte 300 000 guossi fitnet girjemeassuin.
16.10.2019
Ruvdnaprinseassa Mette-Marit logai lávddis divtta "Det er den draumen". Divtta lea čállán Olav H. Hauge, ja dat lea válljejuvvon buoremus diktan Norggas. Dien teavstta lea ge Norga geavahan norgga girjjiid čalmmustahttimii dán jagi girjemeassuin: The Dream We Carry, dahje duiskagillii Der Traum in uns.
Ruvdnaprinseassa lohká Olav H. Hauges divtta "Det er den draumen". Govva: Frank Rumpenhorst / dpa / AFP/ NTB scanpix
Det er den draumen me ber på
at noko vedunderleg skal skje,
at det må skje –
at tidi skal opna seg,
at hjarta skal opna seg,
at dører skal opna seg,
at berget skal opna seg,
at kjeldor skal springa –
at draumen skal opna seg,
at me ei morgonstund skal glida inn
på ein våg me ikkje har visst um.
Olav H. Hauge
Stáhtaministtar Erna Solberg lei maid fárus dáid stuora meassuid rahpamis. Son deattuhii dan mot girjjálašvuohta sáhttá rahpat ipmárdusa eará olbmuid eallimii ja vásáhusaide, ja mot earáid mielas lea deaivvadit min iežamet kultuvrrain.
 
- When i read books, it is not because I want to read about people like me. It's to learn about others. And to learn about how others experience their meetings with my culture. There are many things I will never experience first-hand. Literature can make up for this, logai stáhtaministtar.

Karl Ove Knausgård lávddis Frankfurt internašuvnnalaš girjemeassuid rahpamis. Govva: Heiko Junge / NTB scanpix
Norgga girječálliguovttos Erika Fatland ja Karl Ove Knausgård, doalaiga beaktilis sártniid duiska gehččiide ja guldaleddjiide ja Elle Márjá Eira loahpahii rahpandilálašvuođa luđiin.
Norgga paviljonga
Maŋŋel rahpandilálašvuođa manai ge Ruvdnaprinsabárra norgga guossepaviljongii. Kulturministtar Trine Skei Grande rabai girjemeassuid Norgga oasi.
Kulturministtar Trine Skei Grande doallá rahpansártni norgga paviljongas. Govva: Heiko Junge / NTB scanpix
Dies besset dábálaš girjelohkkit, girjjálašageanttat ja lágideaddjit geahčadit máŋga čuođi Norgga girječálliid girjjiid. Badjel 500 dárogiel girjji lea jorgaluvvon duiskagillii dán jagi, ja dat lea ođđa olahus!
Stuora deaivvadanbáiki
Frankfurt girjemeassut leat máilmmi stuorámus girjemeassut. Das leat ruohttasat maŋos gitta 1478 rádjái, dalle lágiduvvo vuosttaš meassut – ii nu ollu maŋŋil go Gutenberg lei fuobmán ođđa deaddilandáidaga.
Dáiddárat guoimmuhedje Norgga paviljonga rahpamis. Govva: Heiko Junge / NTB scanpix
Dál leat girjemeassuin sullii 4 000 iešguđetlágan lágideami, ja daid čuvvot 10 000 journalistta. Meassut lágiduvvojit gitta sotnabeaivái golggotmánu 20. beaivái. Lágideaddjit vurdet badjelaš 300 000 guossi meassuide. Guossit besset deaivvadit badjel 100 riikka čálliiguin, muhto dán jagi lea norgga girjjálašvuohta fokusis.
Fáktadieđut
Frankfurt girjemeassut
Frankfurt girjemeassut leat máilmmi stuorámus ja deháleamos girjemeassut. Dat bistet vahku golggotmánus. Vuosttaš golbma beaivvi leat buhtis girjesuorggi beaivvit. Dan maŋŋá rahpet uvssaid álbmogii. Duiska girjemárkan lea nubbin stuorámus olles máilmmis.
Girje- ja mediaolbmot 125 riikkain čoahkkanit oastit ja vuovdit vuoigatvuođaid. Meassuin fitnet birrasii 300 000 guossi juohke jagi. Sullii 10 000 journalistta miehtá máilmmi gokčet diein lágideami.
Norga galgá leat meassuid váldoriika (guosseriika) 2019:s – mii lea boađus olles norgga girjesuorggi oktasaš áŋggirdemiin. NORLA – Norwegian Literature Abroad – jođiha barggu 2019 guvlui. Okta váldoulbmilin lea loktet ovdan ođđa girjjálaš jienaid.
Guosseriika čalmmustahttojuvvo earenoamáš bures,  ii dušše meassuin, muhto miehtá Duiskaeatnama. Frankfurtas čájehit guosseriikka ollu lágidemiin čavčča mielde – buot kultursurggiin.
NORLA oaivilbuktinkonferánsa cuoŋománu 26. beaivvi 2017 mearkkašahtii dan ahte dál álgá bargu Norgga áŋggirdemiide hábmet sisdoalu. Ulbmilin lea čájehit min buoremus girjjálašvuođa ja kultuvrra.
Eará guosseriikkain leat hui buorit vásáhusat. Suopma lei konferánssa guosseriika 2014:s ja Islánda 2011:s.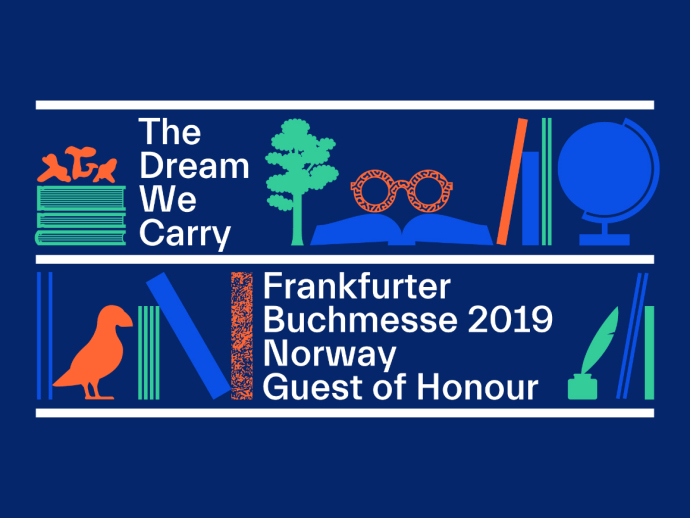 Fáktadieđut
Fokus: Girjjálašvuohta
Ruvdnaprinseassa lea viššalis lohkki geas lea stuora beroštupmi girjjiide. Son hálida earáiguin juogadit iežas lohkanilu ja nie viiddidit buori girjjálašvuođa – dainna nana jáhkuin ahte juohkehačča várás gávdno girji.
Jagi mielde galgá Ruvdnaprinseassa Mette-Marit čuovvut ollu girjjálaš lágidemiid, mat leat hui iešguđetláganat: Sáhttá leat lohkanboddu mánáide Šloahttašiljus dahje Oscarhállas, girjjálaš festiválat dahje girjerájus guossástallamat. Ruvdnaprinseassa geahččala maid láhčit dili čoahkkimiidda norgga girjjálašvuođa birra go lea almmolaš guossástallamiin olgoriikkain.
Liikká lea Ruvdnaprinseassa girjjálašvuođa áŋggirdeamis okta lágideapmi mas lea earenoamáš sadji: Girjjálaštoga. Maŋemus jagiid lea Ruvdnaprinseassa mátkkoštan girjjálaš togamátkkiin. NSB ja Deichmanske girjerájus Oslos leat veahkehan su.
Cuoŋománu 26. beaivvi 2017 álggii Ruvdnaprinseassa norgga girjjálašvuođa ambassadevran olgoriikkain.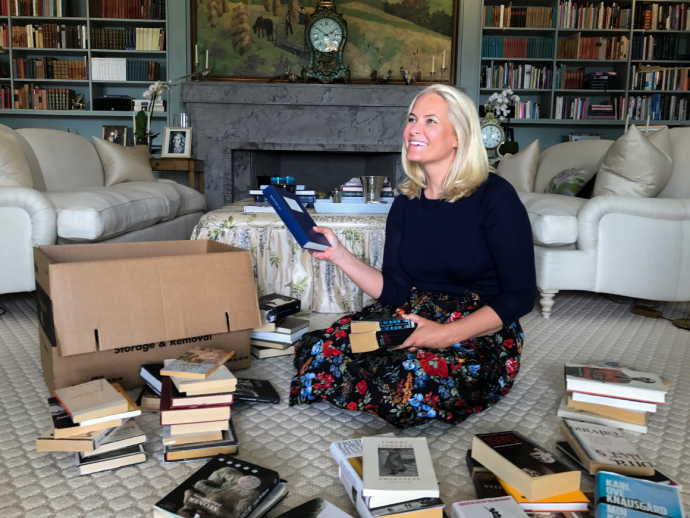 Kronprinsessen under forberedelser til Litteraturtoget 2018 hjemme på Skaugum. Foto: Christian Lagaard, Det kongelige hoff