Punta Arenas
Beaivvi mátkkošteami maŋŋá lea Gonagasbárra boahtán Punta Arenas gávpogii, áibbas lullin Chiles. Dát hámmangávpot lea Magellannuorregáttis. Dat lea earet eará vuolggabáiki Anárktalaš ekspedišuvnnade.
30.03.2019
Punta Arenas lea lulimus gávpot máilmmis gos ásset badjel 100 000 olbmo. Dát lei deháleamos hámman sidjiide geat borjjastedje gaskal Jaskesábi ja Atlántarábi, ovdal go Panamakanála rahppojuvvui 1914:s.
Punta Arenas lea Anárktalaš ekspedišuvnnaid bása. Anárktalaš guovllut ledje ge seminára fáddán, mii lei vuosttaš oassi Majestehta Gonagasa ja Dronnega otná prográmmas gávpoga guossástallamis.
Diehtu Antárktalaš guovlluid birra
Norggas ja Chiles leat sihke oktasaš beroštumit ja oktasaš historjá Anárktalaš guovlluin. Otná semináras ságastalle dehálaš gažaldagaid, nugo dálkkádagaid nuppástuvvamiid, nanu guoddevaš hálddašeami ja suodjaleami. Gonagas Harald rabai seminára. Áhpi addá sihke borramuša ja energiija eatnama dađistaga lassáneaddji álbmogii . Muhto eaktun lea ahte mii nákcet hálddašit resurssaid nanu guoddevaš vugiin, deattuhii Gonagas.
"The growing population of our planet will need more food, minerals, energy and medicines. The oceans could hold the answer to many of these challenges if we manage them sustainably."
Norgalaš ja Chile dutkit lea aitto mátkkoštan fárrolaga "Kronprins Haakon" dutkanskiippain. Filbma dan mátkkis čájehuvvui semináras. Ulbmil dainna mátkkiin lei kártet man krillmáddodaga Lulli -Jiekŋamearas. Máhtolašvuohta lea dehálaš ábi resurssaid hálddašeamis. Anárktalaš guovlluid dutkamat buktet seammás eanet máhtu máilmmiviidosaš dálkkádagaid nuppástuvvamiid birra.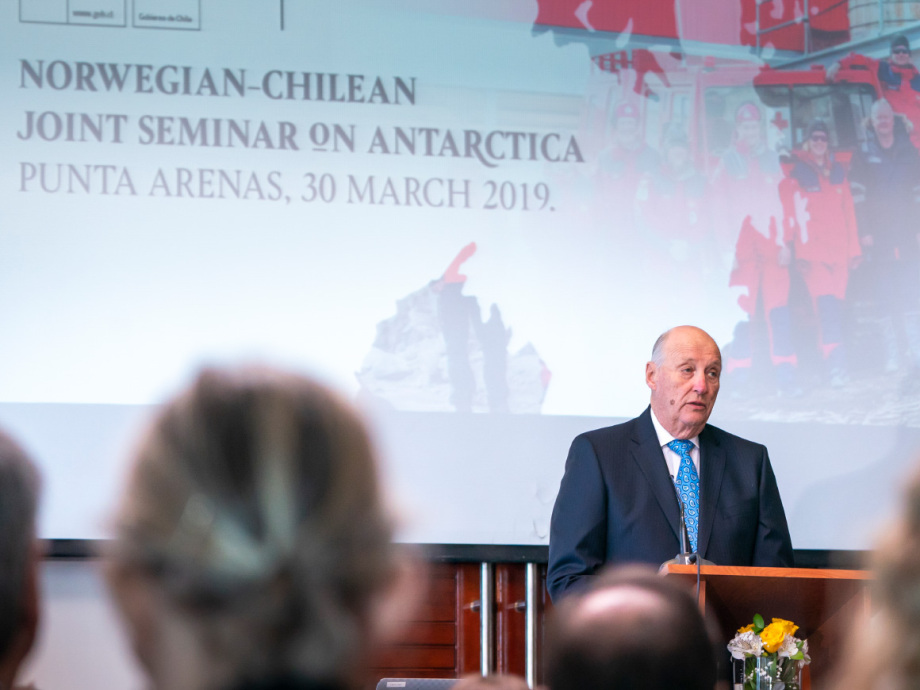 Gonagas Harald rabai Norgga-Chile seminára Anárktalaš guovlluid birra. Govva: Heiko Junge / NTB scanpix
Máilmmiviidosaš liegganeami váikkuhusat bohtet oidnosii jođáneappot ja čielgaseappot Árktalaš ja Anárktalaš guovlluin go eará guovlluin máilmmis. Danin oažžu ge Anárktalaš guovlluid dutkamiin mávssolaš dieđuid ja ipmárdusa, deattuhii Gonagas.
Ii leat guhkes áigi dan rájes "Kronprins Haakon" lei gárvvis biddjojuvvot čáhcái - máilmmi vuosttaš ja eanemus avanserejuvvon dutkanskiipan. Skiipa lea huksejuvvon dan várás ahte čohkket datadieđuid poláraguovlluid birasdiliid birra, ja das leat áibbas ođđaáigásaš dutkanbiergasat ja 14 laboratoria.
Buresboahtinseremoniija
Seminára rahpama maŋŋá sávve Gonagasbárrii almmolaš buresboahtima Punta Arenasii, sihke našunálalávlagiiguin ja árbevirolaš lávlagiiguin ja dánssain. Seremoniija lágiduvvui guovddáš báikkis gávpogis, ja dohko ledje čoahkkanat miellačájeheaddji geat hálidedje čájehit iežaset vuostehágu norgalaš guollebiebmama vuostá. Gonagas ja Dronnet bisáneigga ságastallat miellačájeheddjiiguin.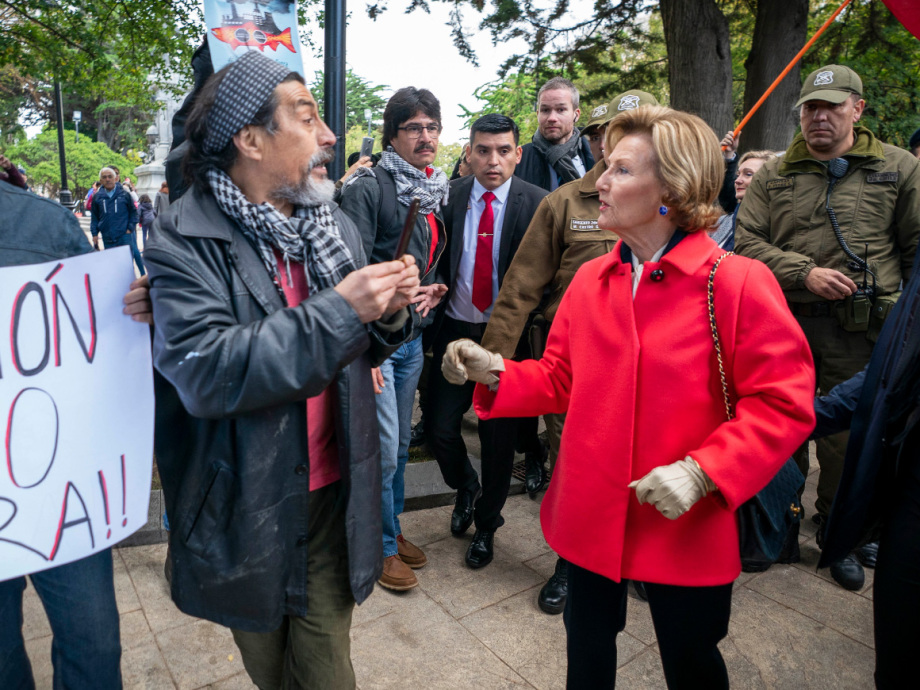 Gonagas ja Dronnet bisáneigga hupmat Chile miellačájeheddjiiguin geat vuostálaste luossabiebmama. Govva: Heiko Junge, NTB scanpix
Seremoniija lei lahka dan stuora monumeantta mii lea ceggejuvvon muitun mearaid mátkkošteaddjái Ferdinand Magellan. Magellan lei vuosttaš olmmoš gii borjjastii Eurohpás Asiai, nuori mielde mii maŋit áiggi oaččui su nama. Dat dáhpáhuvai 1520:s, ja dál leat ge ráhkkanišgoahtán stuora ávvudeapmái dien oktavuođas.
 Puntas Arenas sátnejođiheaddji, Claudio Radonich muitalii Gonagassii ja Dronnegii monumeantta birra, ja de son vulggii Gonagasbárain ráđđevissui gos Gonagasbárra oaččui gávpoga čoavdagiid.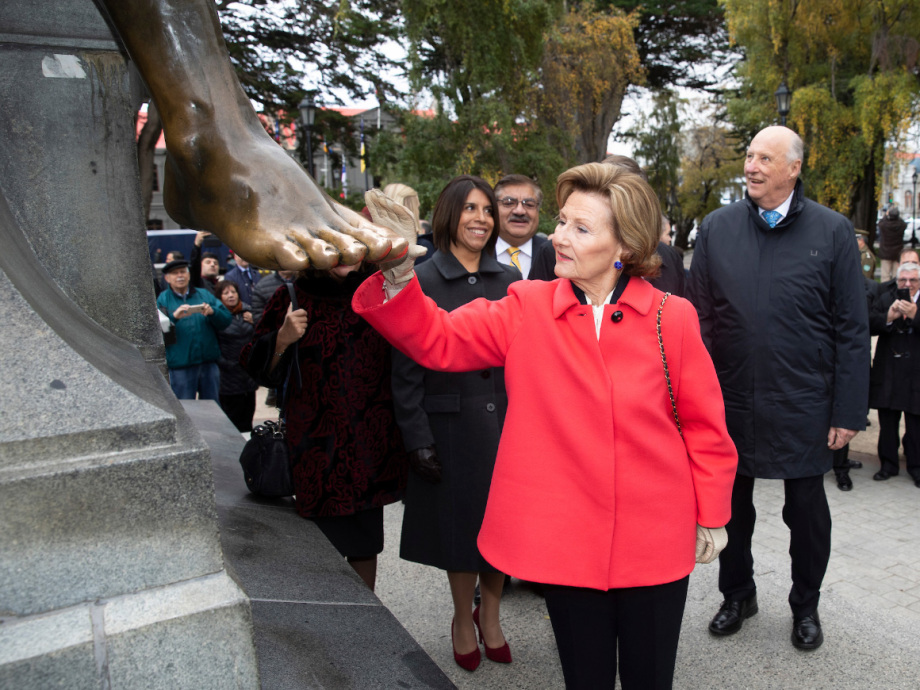 Sátnejođiheaddji čájehii Gonagasbárrii mearaid mátkkošteaddji Ferdinand Magellan bácci. Lea dábálaš ahte guossit geat fitnet Punta Arenasas, guoskkahit muhtun daid figuvrraid juolgesuorpmaid mat leat Magellan-báccis... Govva: Tom Hansen, Hansenfoto.no
Káfejás
Maŋŋá dan allaáiggálaš čoavddaseremoniija, vulggii sátnejođiheaddji váccašit Gonagasbárain Punta Arenas gáhtaide. Sii vázze earet eará ivdnás Kiosko Roca káfejái, gos guossohit "picados" – smávva vuostáláibbážiid ja eará herskkuid mat leat dábálaš borramušat dán guovllus. Dat báiki lea gávpoga ássiid čoaggananbáiki, ja lea leamaš seammás báikkis 1950-logu rájes. 
Gonagasbárra Kiosko Rocos. Govva: Tom Hansen, Hansenfoto.no
Satellihttapárka
Satellihtat leat dehálaš bargoneavvut dutkamiin. Norgga fitnodagas KSAT lea váldokantuvra Romssas, ja das leat satellihttastašuvnnat 21 báikkis birra máilmmi. Okta dain stašuvnnain lea Punta Arenas, ja dan stašuvnnas finai Gonagasbárra eske veaigin. Norgga Chile ambassadevra ,Beate Stirø, rabai stašuvnna 2017:s. Das lea dehálaš strategaš sajádat. Ii unnimustá danin go stašuvdna ovttasbargá norgalaš Troll dutkanstašuvnnain Dronnet Maud Eatnamis- mii lea okta eará dieđuid čohkkejeaddji árktalaš guovlluid birra.
Puntas Arenas stašuvdna stuorru, ja odne beasaiga Gonagas ja Dronnet oaidnit ovtta stašuvnna viđa ođđa anteannain. KSAT hálddahusdirektevra Rolf Skatteboe muitalii doaimma birra ja man dehálaš davvi-lulli ovttasdoaibma lea – gaskal Norgga ja Chile, Anárktalaš guovlluid ja  Svalbárda.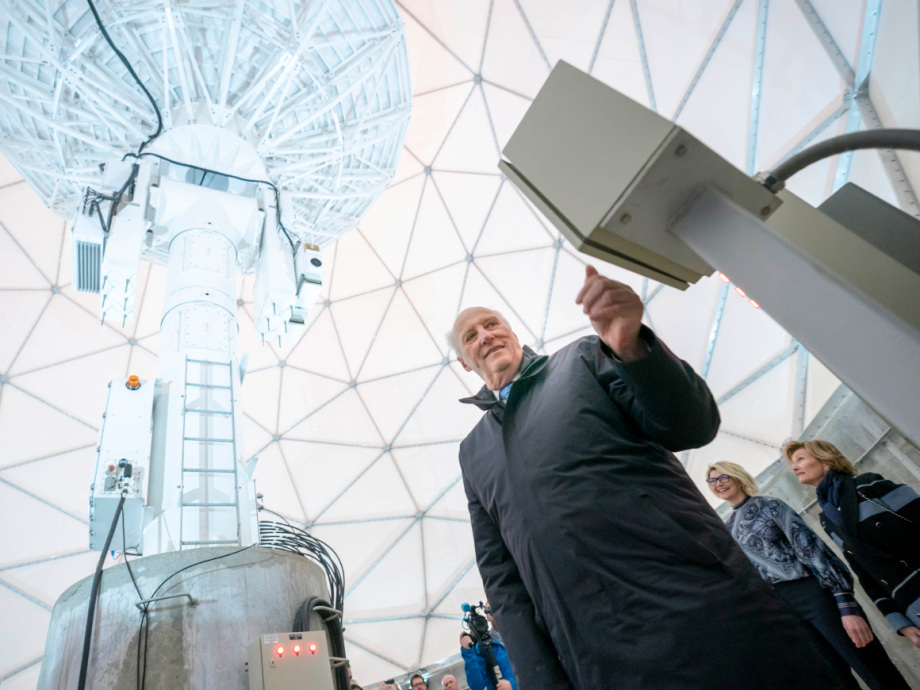 Gonagas Harald rabai KSAT ođđa anteannaid almmolaččat. Govva: Heiko Junge / NTB scanpix
Gonagas Harald oaččui gudni rahpat daid ođđa anteannaid almmolaččat. Dat leat juo váldojuvvon atnui, earet eará lobihis guollebivddu bisseheapmái ábiin olggobealde Chile ja Peru. Gonagasbárra vuolláičálii maid dan mii galgá ráhkaduvvot bronsapláhttan dan báikái.
Fanasmátkki Magellannuoris
Juo odne iđđes ovdošii Gonagas buot dan maid beasai oaidnit go geahčai Magellannuorrái. Son lea poláraberošteaddji ja borjjasteaddji, ja danin son lei iluin vuordán beassat fitnat Punta Arenas. Magellannuorri earuha Lulli – Amerihká nannáma Ildlandet sulluin. Nuoris lea váttis navigeret, muhto dat lei liikká guhká sihkkarit borjjastanbáiki skiippaide Jaskesábi ja Atlántarábi gaskka, go Kapp Horn, gos dávjá ledje mihá garrasit dálkkit.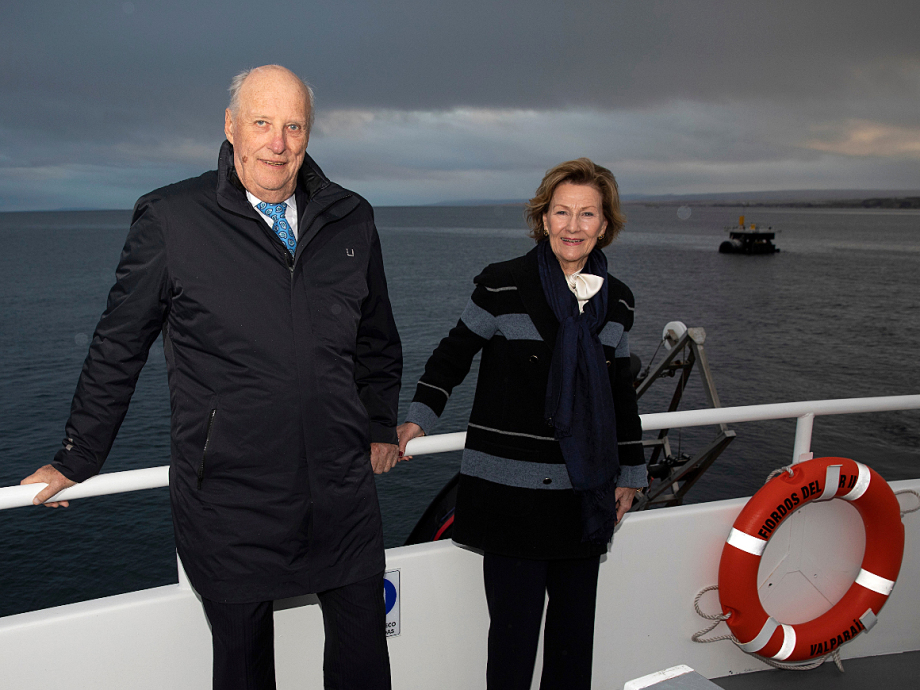 Gonagasbárra loahpahii guossástallama Punta Arenas fanasmátkkiin Magellannuoris. Govva: Tom Hansen, Hansenfoto.no
Eahkes beasaiga Gonagas ja Dronnet muosáhit Magellannuori katamariinna deahka alde. Sudnos lei maid nu lihkku ahte beasaiga oaidnit bossu dan mátkkis.
 
Ihttin, sotnabeaivvi, loahpaha Gonagasbárra Chile stáhtaguossástallama. Dan dahkaba Puerto Williams gávpogis – máilmmi lulimus čoahkkebáikkis.