Garra deaivvadeapmi vássánáiggiin
Gonagasbárra guossástalai odne Parque de la Memoria, Rio eatnogáttis, de la Plata. Dát muitopárka gudnijahttá daid duháhiid olbmuid geat gillájedje jápmima Argentina militearadiktatuvrra vuolde gaskal 1976 ja 1983.
07.03.2018
Majestehtaguovttos Gonagas ja Dronnet vácciiga muvrra mielde masa leat čállojuvvon badjel 9 000 nama, daid olbmuid namat geat jávke ja/dahje goddojuvvo militearadiktatuvrra stivrra vuolde. Ja ain nagodit identifiseret ođđa jápmánolbmuid namaid, geat buohkat ožžot sierra nammapláhta guhkes  muvrii mii lea Rio eatnogáttis. Ii oktage dieđe áibbas sihkkarit man ollu vuostálastiid issoras fápmogeavaheaddjit leat goddán, sáhttet leat nu eatnat go 30 000 olbmo.

Dronnet Sonja lohka muhtun dain 9 000 namain geat masse heakka militearadiktatuvrra vuolde. Sin namat leat čállojuvvon muvrii Parque de la Memorias. Govva: Sven Gj. Gjeruldsen, Gonagaslaš hoavva


Muitopárka lea ráhkaduvvon 300 mehtera dan militeara girdihámmanis eret,  maid nugohčoduvvon "deadflights" geavahedje.  Fámu vuostálasti fáŋggat fievrreduvvo heakkas girdiide dahje helikopteriidda, ja de bálkestuvvo eallin girdis etnui dahje merrii. Párka ráhkaduvvui 1998:s, danin go báikkálaš olmmošvuoigatvuođajoavkkut barge dan ovdii ahte oažžut dan ásahuvvot.
Muvrra geahčen manaiga Gonagas Harald ja Dronnet Sonja stealli ala mas soai bálkesteigga liđiid etnui – muitun daid ollu olbmuide geat dieppe masse heakka. Gonagasbárra beasai dies maid deaivvadit Argentina olmmošvuoigatvuođaorganisašuvnnaid ovddasteddjiiguin.


Gonagasbárra beasai dearvvahit Áhkuid jođiheaddji Mai-báikkis, Estela de Carlotto – ja ollu eará áhkuid - muitopárkkas. Govva: Heiko Junge / NTB Scanpix

Ealáhusat
Muhto otná beaivvi prográmma álggahuvvui áibbas eará báikkis: Dronnet Sonja rabai stuora ealáhusseminárat "Norga-Argentina. Árvoháhkama ođđa oktavuođa guimmežat". Birrasii 20 norgga fitnodaga leat juo ásahuvvon Argentinai, ja ollu norgga ealáhusjođiheaddjit ledje semináras. Ulbmil lea lasihit Norgga ja Argentina gávpeoktavuođaid.
Dronnet čujuhii dehálaš surggiide maidda dán guovtti riikkas leat oktasaš beroštumit, ja geavahii maid dilálašvuođa deattuhit man dárbu lea dásseárvui:
- If we really want to modernise our societies, we cannot ignore this issue. Women must have the same chance to contribute to, and benefit from, this new wave of modernisation. And this must also apply to the positions at top level.

Govva: Heiko Junge / NTB scanpix  

Argentina olgoriikkaministtar Jorge Faurie lei seminára lágideaddji njunuš, mii lei San Martín Gárdimis. Dien earenoamáš fiinna gárdima lea Norgga sogalaš arkiteakta Alejandro Christophersen (1866-1946) sárgon. Christophersen lea sárgon ollu máinnalmas visttiid Buenos Airesis.
Antárktalaš ovttasbargus
Goappešat riikkain leat Anárktalaš beroštumit ja historjá, ja odne čuovui Gonagasbárra seminára "Argentina ja Norge – Anárktalaš ovddasmannit ".
Gonagas Harald rabai seminára. Son namuhii máŋga historjjálaš ovdamearkka mat čájehit man dehálaš ovttasbargu lea, eandalii dalle go Roald Amundsen vánddardii lullipolii 1911:s.  Dál mii ovttasbargat suodjalanbargguin ja dutkamiin. Dat barggut nannejuvvojedje vel eanet odne go vuolláičálle soahpamuša mii guoská nannosit ovttasbargui Anárktalaš guovlluin.
"Norway and Argentina have more than a hundred years of joint history in the Antarctic. We have a shared responsibility in the region to protect its vulnerable environment.
 - Norway and Argentina have more than a hundred years of joint history in the Antarctic. We have a shared responsibility in the region to protect its vulnerable environment. I am confident that we will continue to learn more about this unique area, and seek to ensure that it remains the most pristine and peaceful place on earth.
Gávpotčoavdda"Norgga báikkis"
Veaigin báikkálaš áiggi mielde mátkkošta Gonagasbárra Plaza de Noruega báikái, gos Buenos Aires' sátnejođiheaddji, Horacio Larreta, vuostáiváldá sudno.  Diet báikái leat bidjan Norgga nama, danin go dat lea Norgga ambassáda lahka, ja das ledje ollu ođastan stáhtaguossástallama oktavuođas.
Vuordimis bohtet ollu Argentinas ássi norgalaččat dien báikái odne dearvvahit Gonagasbára ja čuovvut seremoniija gos sátnejođiheaddji Larreta  addá Gonagas Haraldii ja Dronnet Sonjai "gávpotčoavdaga".  Čoavdda lea Norgga ja Argentina ustitvuođa symbola.

Plaza de Noruegas beasai Dronnet dearvvahit unna Lars Kristensen ja earáid geat gullet Argentina norgalaš birrasii. Govva: Heiko Junge / NTB Scanpix


Máhcahanlágideapmi
Eahkes bovdeba Gonagas ja Dronnet stuora mállásiidda El Zanjón de Granados báikkis - San Telmo gávpotoasis. Muhtun historjáčállit oaivvildit ahte dien báikái ásaiduvve vuosttaš olbmot  Buenos Airesis 1536:s.  Roggamiin leat gávdnan dološ El Zanjón bázahusaid. Dál lea dien báikkis dáhpin lágidit kulturdoaluid.
Lanjat lea čiŋahuvvon nu ahte guossit besset "jieŋa čađa vázzit mállásiidda boađidettiin. Dat galgá govvidit Norgga ja Argentina oktasaš beroštumiid mat gusket Lullijiekŋaáhpái ja Anárktalaš guovlluide. Mállásiid oktavuođas besset návddašit sihke Argentina ja  norgga kulturovdanbuktimiid, nugo argentinalaš tango ja norgalaš távttaid.
Ihttin loahpahuvvo stáhtaguossástallan.
Fáktadieđut
Dieđut Argentina birra
Oaivegávpot: Buenos Aires
Stuorámus gávpogat: Buenos Aires, Córdoba, Rosario
Viidodat: 2 780 400² (Norga: 385 186 km²)
Olmmošlohku: Sullii 43,5 miljovnna
Giella: Spánska
Stivren: Republihkka
Stáhtaoaivámuš 2018: Presideanta Mauricio Macri
Gonagas Olav lei stáhtaguossástallamis Argentinas čakčamánus 18. - 21. beivviid 1967
Norgga ja Argentina gaskavuohta lea buorre, ja oktavuođat iešguđet surggiin leat nannenjuvvon maŋemus jagiid, maŋemustá 2016:s go Norgga olgoriikaministtar lei doppe guossástallanmátkkis.
Argentinas lea lassánan beroštupmi ealáhusovttasbargui ja dasa ahte galggaše norgga doaimmat álggahuvvot doppe.
Argentina vuovdingálvvut lea eanas dakkárat go olles šattut ja ruotnasat,viidni, leaira, borramušat ja minerálaolju. Norga vuovdá dohko ovddemusat goanstagilvagiid ja eará kemihkalaš buktagiid, mašiinnaid ja teknihkalaš instrumeanttaid.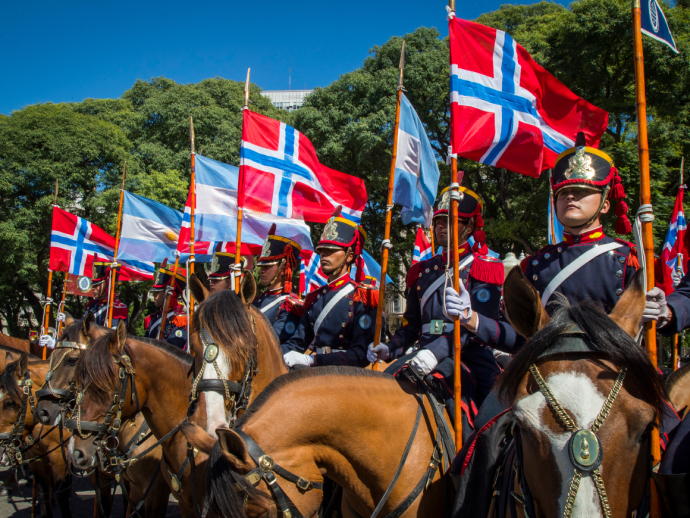 Argentina gudnigarde guttii Norgga ja Argentina leavggaid seremoniijas. Govva: Heiko Junge / NTB Scanpix