Stáhtaguossástallan Argentinas
Eske ovdalgaskabeaivvi bijai Gonagas Majestehta lieđđekránssa Našunálamonumeantta lusa Buenos Airesis. Kránsabidjan álggahii Gonagasbára golmma beaivásaš guossástallama Argentina.
06.03.2018
Stáhtaguossástallamat álggahuvvojit vieru mielde nie – ahte guossástalli stáhtaoaivámuš bidjá lieđđekránssa Plaza San Martin Našunálmonumeantta lusa. Monumeanta lea ceggejuvvon muitun generálii José de San Martin, guhte jođihii friddjanbeassan soahtamiid maid boađus lei ahte Argentina beasai spánska kolonisttalaš stivrra vuolde eret jagis 1816.

Stáhtaguossástallan álggahuvvui lieđđekránssa bidjamiin Plaza San Martin našunálmonumeantta luhtte Buenos Airesis. Govva: Heiko Junge / NTB Scanpix

Maŋŋil dien allaáiggálaš seremoniija, vulggii Gonagasbárra Casa Rosadai, gos gudnigárda čuoččui ja vurddii. Presideanta Mauricio Macri ja Argentinas vuosttašroavvá Juliana Awada  sávaiga Gonagasbárrii almmolaš buresboahtima.
Gonagasbára guossástallan Argentinas lea vuosttaš guossástallan dán rájes Gonagas Olav lei doppe stáhtaguossástallamis 1967:s.  Argentina ja Norgga gaskasaš gávppašeapmi ja ovttasbargu lassána, ja stáhtaguossástallama ulbmil lea nannet riikkaid oktavuođabáttiid vel eanet.

Gonagasbárra ja Presideantabárra besse ságastallat presideantagárdimis, Casa Rosada. Govva: Sven Gj. Gjeruldsen, Gonagaslaš hoavva


Gaskasaš ságastallamat
Maŋŋil buresboahtima, lágiduvvui dilálašvuohta Norgga ja Argentina delegašuvnnaid gaskasaš ságastallamiidda. Olgoriikaministtar Ine Eriksen Søreide ja ealáhusministtar Torbjørn Røe Isaksen leaba fárus delegašuvnnas mii čuovvu Gonagasbára, ja dasa lassin lea vel stuora ealáhusdelegašuvdna sudno fárus. Ságastallamat lágiduvvojedje Casa Rosada nammasaš báikkis, mii lea Argentina presideantta almmolaš  gárdin. Gárdin lea dovddus Maibáikkis, man lagas birrasis lea eará dehálaš institušuvnnat.

Casa Rosadas lágiduvvo ságastallamat Norgga ja Argentiinna almmolaš delegašuvnnaide. Govva: Sven Gj. Gjeruldsen, Gonagaslaš hoavva


Maŋŋil politihkalaš ságastallamiid, bovdii Presideantabárra lunšii Casa Rosada museaoasis. Museas oaidná 1500 – logu ladni bázahusaid mii lea dán báikkis leamaš, ja ii unnimusat de beassá doppe maid oaidnit Argentina beakkálmas vuosttašroavvá Eva Peron (1919-1952) biilla –  Cadillac Coupé Convertible.
Sáhkavuorut ja gudnimearkkaid lonohallan
Sártnistis lunšša oktavuođas čujuhii Gonagas Harald  dán guovtti riikka historjjálaš báttiide ja maiddái Argentina ja Norgga ođđa ovttasbargan vejolašvuođaide:
- Our visit has attracted a lot of interest in Norway. It opens up new opportunities for cooperation in several areas. The extensive programme and our large delegation reflect this high level of interest. Quite a few Norwegian companies already have a presence here, and several are currently establishing themselves in Argentina. Agreements aimed at strengthening cooperation in a wide range of fields are being signed during our visit. This includes cooperation on trade and investments, and also cooperation based on defending human rights, promoting rule-based international cooperation and recognising our common responsibility to ensure sustainable development.  
Sártnistis lunšša oktavuođas čujuhii Gonagas Harald dán guovtti riikka historjjálaš báttiide ja maiddái Argentina ja Norgga ođđa ovttasbargan vejolašvuođaide. Govva: Heiko Junge, NTB scanpix

Stáhtaguossástallamiid vieru mielde addojuvvo maid gudnimearkkat.
Veaigeprográmma
Veaigin, báikkálaš áiggi mielde - Argentina lea njeallje diimmu ovdalis Norgga – guossástalaiga Gonagas ja Dronnet Našunálačoahkkima. Doppe soai čáliiga namaska guossegirjái ja beasaiga dan oktavuođas maid oaidnit Argentina vuođđolága. Dasto soai finaiga Alimusrievtti guossis.
Vuostáiváldin hámmanis
Eahkes loahpaheaba Gonagas Harald ja Dronnet Sonja stáhtaguossástallama vuosttaš beaivvi vuostáiváldin dilálašvuođas, maid Innovasjon Norge lágida. Dan soai dahkaba ovttas norgga ealáhusaid ovddasteddjiiguin. Vuostáiváldin lágiduvvo čáppa birrasis Buenos Aires hámmanbasseaŋggas, Yacht Club Puerto Madero.
Fáktadieđut
Dieđut Argentina birra
Oaivegávpot: Buenos Aires
Stuorámus gávpogat: Buenos Aires, Córdoba, Rosario
Viidodat: 2 780 400² (Norga: 385 186 km²)
Olmmošlohku: Sullii 43,5 miljovnna
Giella: Spánska
Stivren: Republihkka
Stáhtaoaivámuš 2018: Presideanta Mauricio Macri
Gonagas Olav lei stáhtaguossástallamis Argentinas čakčamánus 18. - 21. beivviid 1967
Norgga ja Argentina gaskavuohta lea buorre, ja oktavuođat iešguđet surggiin leat nannenjuvvon maŋemus jagiid, maŋemustá 2016:s go Norgga olgoriikaministtar lei doppe guossástallanmátkkis.
Argentinas lea lassánan beroštupmi ealáhusovttasbargui ja dasa ahte galggaše norgga doaimmat álggahuvvot doppe.
Argentina vuovdingálvvut lea eanas dakkárat go olles šattut ja ruotnasat,viidni, leaira, borramušat ja minerálaolju. Norga vuovdá dohko ovddemusat goanstagilvagiid ja eará kemihkalaš buktagiid, mašiinnaid ja teknihkalaš instrumeanttaid.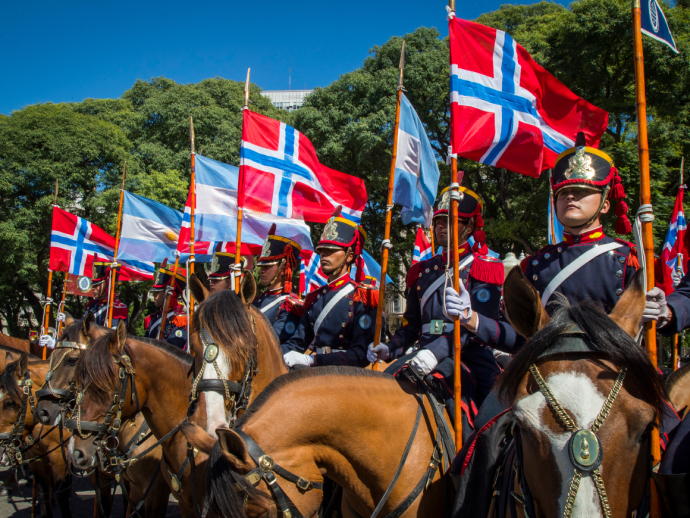 Argentina gudnigarde guttii Norgga ja Argentina leavggaid seremoniijas. Govva: Heiko Junge / NTB Scanpix