Vejolašvuođat ja hástalusat
Gonagaslaš Allavuođas Ruvdnaprinssas lei ollu otná prográmmas Mosambikas. Ealáhusaid vejolašvuođat, nissonolbmuid rolla ráfiproseassas ja el-fámu oažžun ledje dehálaš elemeanttat.
13.02.2020
Ealáhusaid vejolašvuođat ledje vuosttaš oassin Ruvdnaprinssa Mosambik guossástallanmátkki nuppi beaivvi agendas. Maŋŋil iđđesborramuša mas ledje fárus sihke stáhtaráđit ja ealáhusnjunnošat goappešat riikkain, doalai Ruvdnaprinsa Haakonrahpansártni stuorát ealáhussemináras.
Ealáhusaid vejolašvuođat
Norgga ja Mosambik ealáhusaid ovddasteaddjit ledje čoahkkanan seminárii Maputos. Dán rádjái eai leat nu beare galle norgga fitnodaga áŋgiruššan ásahit doaimmaid Mosambikii, muhto lea dađistaga stuorát beroštupmi. Dat guoská eandalii energiijasuorgái, mas juo ovttasbarget sihke gássa ja beaiveenergiija ovddidemiin.
Beaivi álggahuvvui čoahkkimiin iđđesborramuša boradettiin, mas ledje mielde Norgga ja Mosambik eiseválddiid ja ealáhusaid ovddasteaddjit. Govva: Sven Gj. Gjeruldsen, Gonagaslaš hoavva
Mosambikas leat, seamma go Norggas ge, stuora energiijaresurssat. Go bures daid resurssaid hálddaša, de dat sáhttá  leat stuora veahkkin čoavdit dehálaš hástalusaid mat Mosambikas leat.
Ruvdnaprinsa Haakon deattuhii mot norgga energiijaresurssaid hálddašanmálle lokten olles servodaga buresbirgejumi:
- My country's vast energy resources, both renewable and non-renewable, have brought us prosperity, because we have given priority to the sound management of these resources. They have also formed the basis for the development of world-class technology, which is crucial for the further development of the energy sector.
Dán dáfus sáhttet Norgga vásáhusat leat ávkin Mosambikii.
Nissonat ráfibarggus
Mosambikas leat máŋgga áigodagas leamaš ráfehisvuođat ja siseatnansoađit. Borgemánu 6. beaivvi 2019 ásahedje riidduid oasálaččat, ráđđehusbellodat FRELIMO ja opposišuvdnabellodat RENAMO, ráfisoahpamuša.
Riiddut ja ráfehisvuođat čuhcet garrasit nissonolbmuide ja mánáide, ja nissonolbmuin ferte ge leat dehálaš rolla jus galgá nákcet ásahit oadjebas ja bistevaš ráfi. Mosambik ja Norga ovttasbargaba dan áššis ahte nannet nissonolbmuid searvama riidduid čoavdinbargguin. Sin searvan boahtá leat mearkkašahtti dehálaš ráfisoahpamuša čađaheamis.
Ruvdnaprinsa Haakon ságastallá muhtun govvejeddjiin gean govat leat oassin čájáhusas man fáddá lea nissonolbmot ja riiddut. Govva: Sven Gj. Gjeruldsen, Gonagaslaš hoavva
Ruvdnaprinsa doalai sártni semináras man fáddán lei Nissonat, ráfi ja sihkarvuohta:
- In any society, the involvement of women is key to successful development. When women are – more or less systematically – prevented from participating in the political, social and economic life of their country, the whole population loses out. The inclusion of women on all levels is also an essential part of a peace building process. That is what this seminar is all about.
Seminára oktavuhtii lei ordnejuvvon sierra govvačájáhus, mii čalmmustahttá ON-resolušuvnna 1325 -20-jagi ávvudeami, mii lea nissonolbmuid, ráfi ja sihkarvuođa birra. Čájáhus dokumentere mot nissonolbmuide čuhcet soađit ja ráfehisdilit. Ruvdnaprinsa Haakon oaččui vejolašvuođa ságastallat nissonolbmuiguin geat muitaledje iežaset vásáhusaid, ja makkár vejolašvuođaid ja hástalusaid sii oidnet boahttevaš ráfibarggu čađaheamis.
Energiija buohkaide
Energiija háhkan lea ekonomalaš ja sosiála ovdáneami vuđolaš eaktu, ja nu leage guovddáš fáktor geafivuođa loaktinbargguin. Geafivuođa jávkadeapmi lea bajimusas ON ovdánahttin ulbmiliin, ja dainna áŋgiruššá ge Ruvdnaprinsa Haakon earenoamážit go son lea ON ovddidanfoandda UNDP ambassadevra.
Ruvdnaprinsa Haakon ságastallamin gili vuorrasepmosiiguin. El-nehttii čatnan dagahivččii stuora nuppástusaid ja rabašii ollu vejolašvuođaid. Govva: Sven Gj. Gjeruldsen, Gonagaslaš hoavva
Vuollel 30 % Mosambika álbmogis lea el-fápmu. 2018:s ovdanbuvttii Presideanta hui  stuora áigumuša prošeavttain "Energiija buohkaide" , mii galgá sihkkarastit el-fámu olles álbmogii. Dan prográmma doarju Norga, ja odne beasai Ruvdnaprinsa leat fárus go ođđa dálut čanastuvvo el-fápmonehttii.
Ruvdnaprinsa Haakon beasai dearvvahit Sitoe bearraša, mii odne oaččui el-fámu iežaset dállui. Ruvdnaprinsii addojuvvui dat gudni ahte beasai coahkkalit čuovgga, ja dat rievdada oba ollu dán guđa olbmo bearraša dili.
Belmira Americo Sitoe ja Armando, bearraša nuoramus, olggobealde iežaset viesu Matlemeles. Odne sii ožžo el-fámu vissui. Govva: Sven Gj. Gjeruldsen, Gonagaslaš hoavva
Mocub beaivvášenergiija rahppojuvvui borgemánus 2019, ja lea vuosttaš stuorát beaivvášenergiijarusttet Mosambikas. Ja earret Lulli-Afriika, de lea dát maid stuorámus el-fápmorusttet Afriikas lulábealde Sahara. Rusttet sáhttá buvttadit el-fámu eanet go 175 000 viesuide, ja lea ovddiduvvon ovttas Norgga fitnodagaid Scatec Solar, Nofund KLP ja Mosambika el-fápmofitnodagain EDM.
Vuostáiváldin ja loahpaheapmi
Ruvdnaprinsa Haakona guossástallan Mosambikas loahpahuvvui vuostáiváldimiin Maputos, man lágideaddji lei norgga ambassáda. Lágideapmi lei Guolástusmuseas, maid Mosambik, Norga ja Islánda huksejedje ovttas 2008:s.
Sisaboahtin oasis besse guossit oaidnit čájáhusas Norgga ja Mosambik ollu jagiid ovttasbarggu. Ledje sártnit ja kultuvrralaš ovdanbuktimat, ja mearabiebmu lágiduvvon goappešat riikkaid árbevieruid mielde.
Ruvdnaprinsa doallá loahpahansártni vuostáiváldimis Maputos. Govva: Sven Gj. Gjeruldsen, Gonagaslaš hoavva
Ruvdnaprinsa doalai mátkki maŋemus sártni. Sártni loahpas son deattuhii dan man stuora vejolašvuođat Mosambikas leat ja ahte Norggas lea dáhttu veahkehit ollašuhttit daid.
- In closing I would like to remind us all: Mozambique has immense potential. You have an abundance of natural resources, including metals, minerals, fertile soils and ocean-based resources, and you have a strong and resilient people, which of course is the most important key to development. Taking our long history of cooperation and broad partnership as a basis, Norway would like to work with you in realising this potential further.
Fáktadieđut
Fáktadieđut Mosambik
Oaivegávpot: Maputo
Stuorámus gávpogat: Maputo, Matola ja Beira
Viidodat: 799 380 km2 (Norga: 385 203 km²)
Olmmošlohku: sullii 29 miljovnna (2018)
Almmolaš giella: Portugálagiella (11 %), muhto makua hupmet eanebut (25 %)
Beassan sierra Portugalas 25. beaivvi geassemánus 1975
Stivren:Republihkka
Stáhtaoaivámuš 2020: Presideanta Filipe Jacinto Nyusi
Norgga ja Mosambik gaskka leamaš buorit oktavuođat juo 1977 rájes, dalle go Presideanta Samora Machel guossástalai Norgga ja Gonagas Olav.
Mosambik lea okta máilmmi geafimus riikkain mas leat stuora hástalusat.
Veahkki maid Nora addá Mosambikii lea dehálaš, muhto leat dađistaga ásahan eanet ovttasbarggu ollu surggiin.
Norggas ealáhusain ii leat leamaš nu beare stuora beroštupmi, muhto dat lea lassáneamen dál, eandalii energiijasuorggis. Leat gávdnan ollu gássa mearas olggobealde Mosambika, mii sáhttá dan riika dahkat stuora energiijabuvtatdeaddjin máilmmimárkaniin.
Gáldu: OD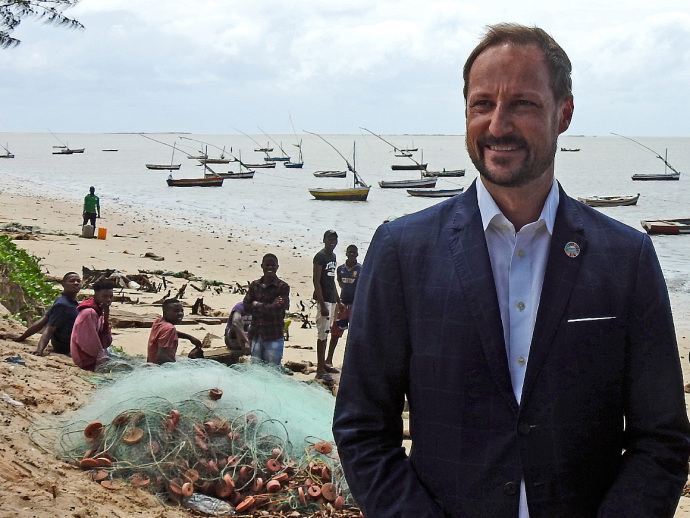 Ruvdnaprinsa Haakon mearragáttis olggobealde Maputo. Govva: Sven Gj. Gjeruldsen, Gonagaslaš hoavva